Public Buildings
'The Fourteen Stations Of The Cross'
Scotus College, Glasgow
14 @ 0.35m x 1.03m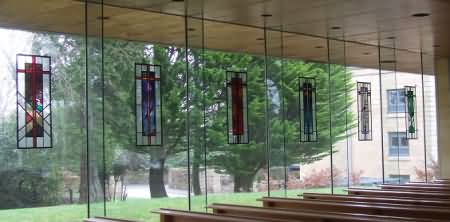 This new-build chapel is in the grounds of Scotus College Seminary in Glasgow.
Both side walls of the building are completely glass.
Inside, these panels which feature contemporary interpretations of the 'Stations Of The Cross' are suspended in front of the patent glazing along each side of the chapel.
The very fine steel wires used to suspend the panels are almost invisible, creating the illusion that the panels are 'floating' freely and emphasising the open, unrestricted feel of the space. Each panel is supported by a concealed welded steel armature.