I studied stained glass design at Glasgow School of Art in the 1980s. After graduating I worked for two years as a designer and college lecturer before setting up the 'Leadline Studio' where I have continued to work in stained glass for over twenty years.
I specialise in site-specific architectural glass for a wide range of locations, from universities to hospitals and from new chapels to listed buildings.
I also work extensively on new commissions for churches, where I enjoy interpreting traditional themes in a contemporary way. I regularly undertake commissions in private houses, but nowadays rarely do restoration work, preferring to develop my own ideas.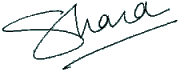 Shona McInnes